New House, New Desk
When I moved out of my last place I decided it was time for a grown up desk. I left behind a beat down Ikea that I had used for close to a decade, I think it has more than served it's purpose. Since I had recently gotten into woodworking, I figured this would be the perfect opportunity to build something awesome. I wish I had thought to take a picture of the old desk in all it's (lack of) glory, but alas, you'll just have to imagine a desk that's on the verge of collapse.
After looking around a lot at different wood types I decided to go with Walnut. I found the House of Hardwood in Los Angeles. They had pretty much everything I could imagine and gave some really good advice for me to get started. I hadn't done a project of this size before, but I knew my table saw would need an outfeed table for the 5+ foot long boards I'd be ripping, so I build a little table out of some ply I had laying around from a previous project.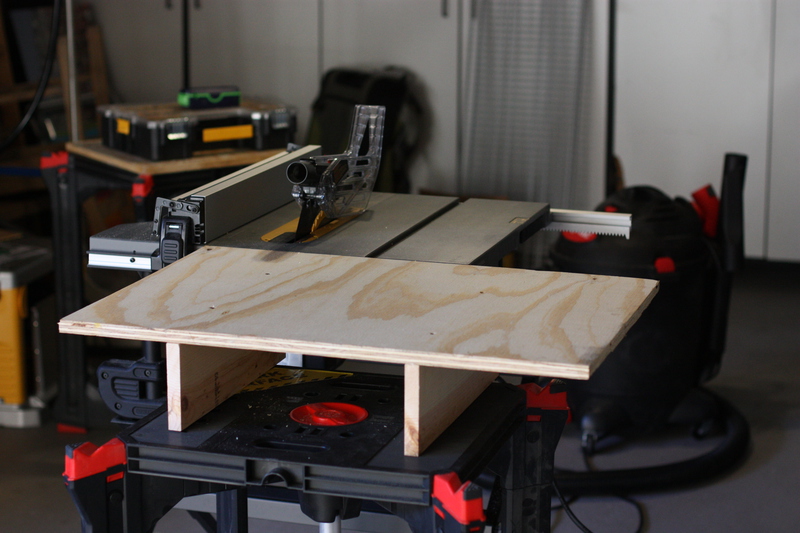 Here's the boards. Absolutely fantastic. I ended up picking up a bunch of ~10 foot boards, which the guys at House of Hardwood cut in half and put an edge on for me. I ran the boards through my surface planer and an edge with my router & router table. I'll be honest I was so nervous I'd screw things up I didn't think to take pictures.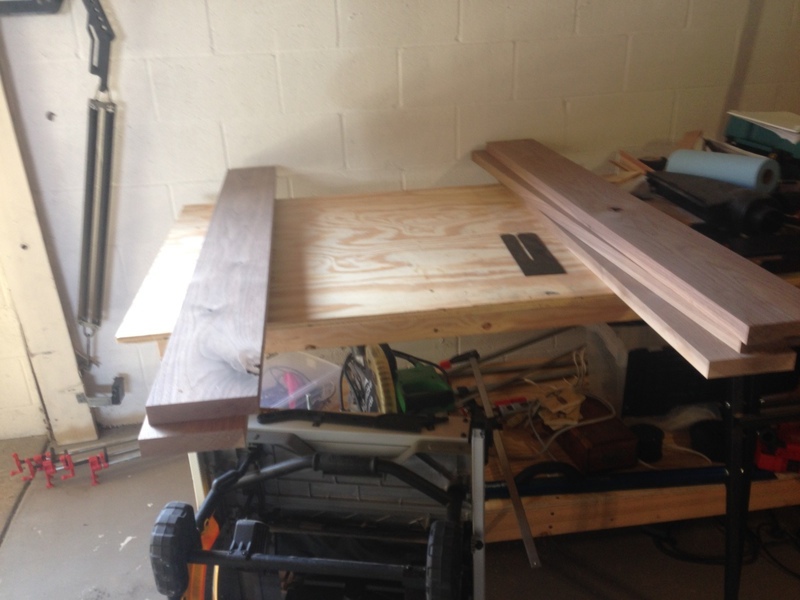 I glued up the boards using 3 pipe clamps plus a couple other clamps where it looked like there was space and glue hadn't appeared.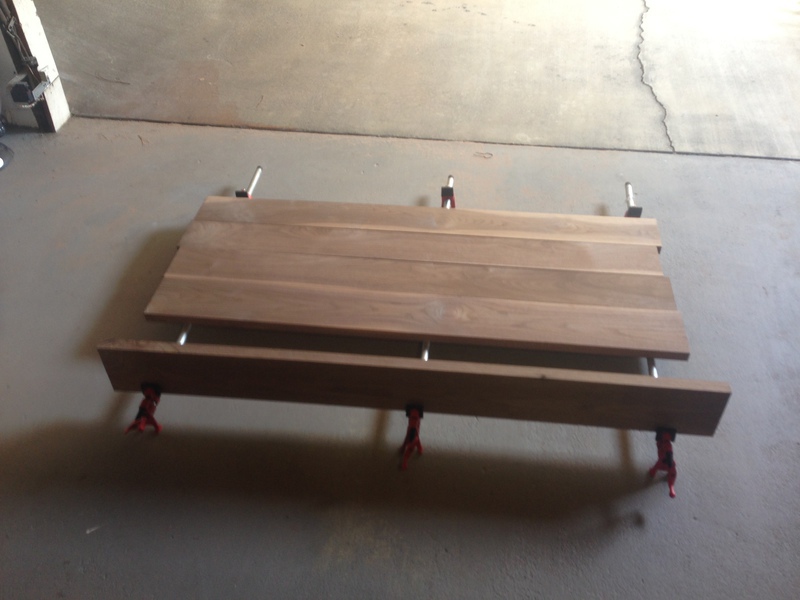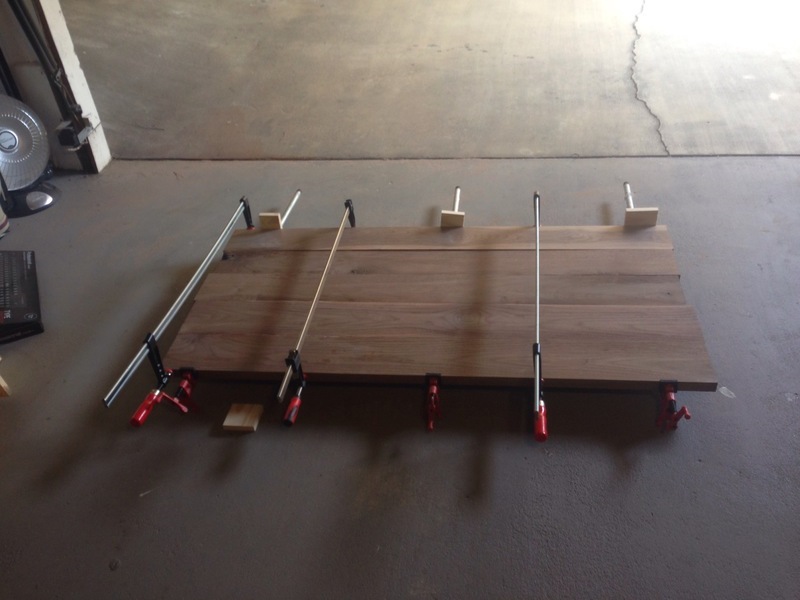 I planed and sanded down the top, the board in the back wasn't perfectly aligned.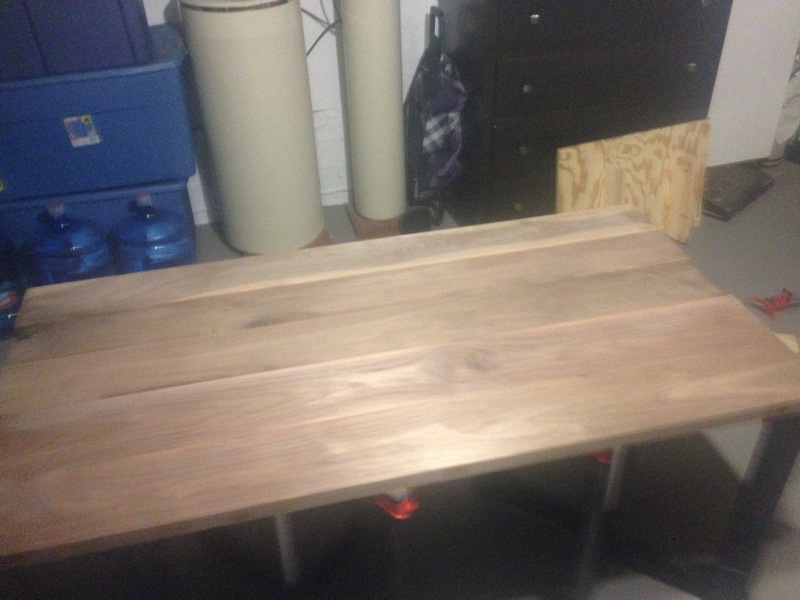 With the top nice and flat I trimmed up the sides.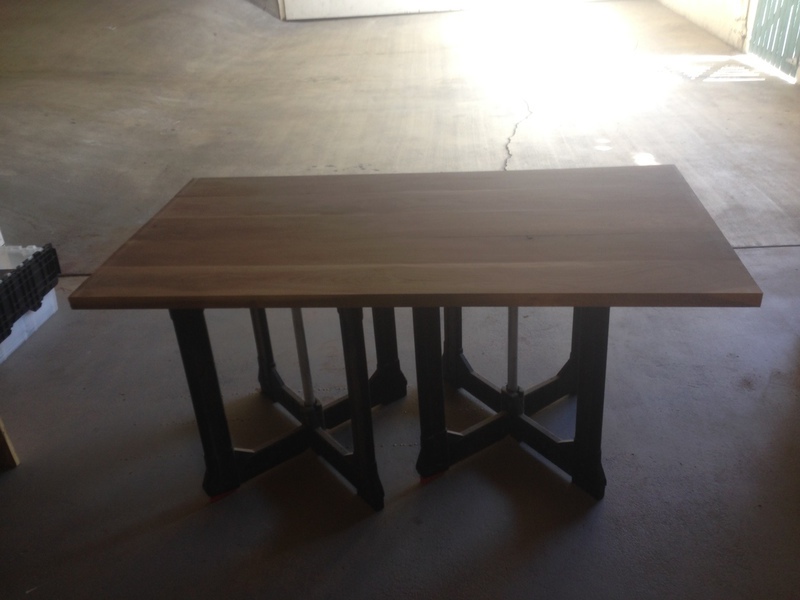 I ended up putting on 2 coats of dark walnut stain. This picture was taken with my crappy iPhone camera so it doesn't look too impressive, but it is looking pretty sweet right now.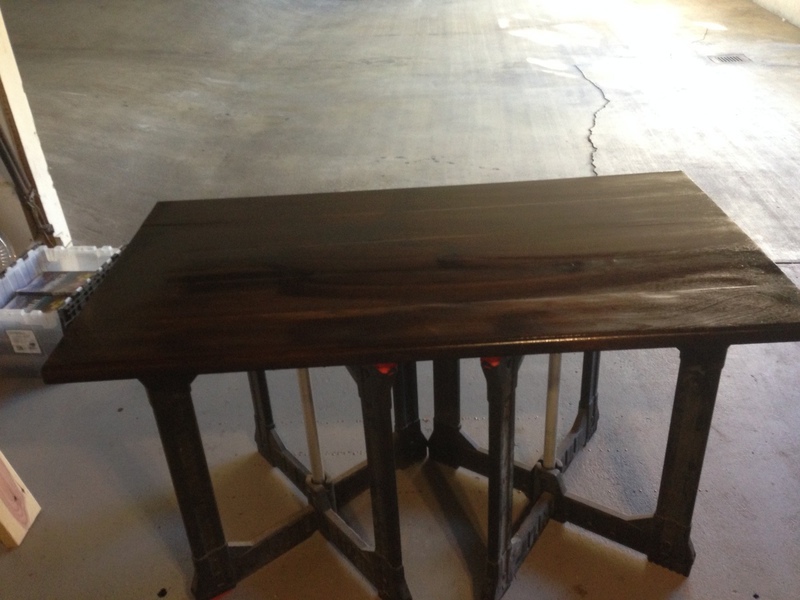 I put on 3 coats of Poly, let it set for 36 hours, then moved it into my kitchen to work on the table legs. The lighting in here is a bit better. I had used the router with a rounding bit to make sure the top front wasn't a sharp straight edge, and accidentally put a little detail on it which everyone has given me complements on. So yeah… I did it on purpose.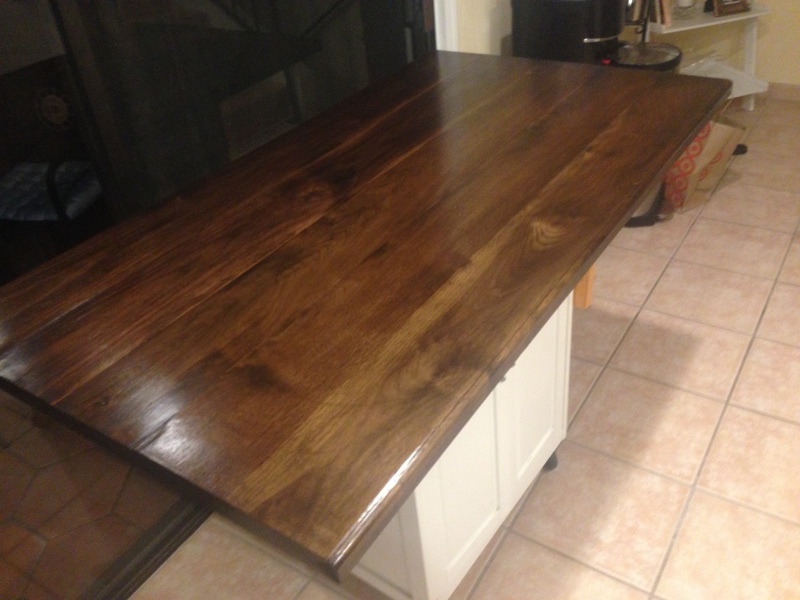 I thought it would be cool to use 1 inch galvanized pipe, spray painted black, as legs.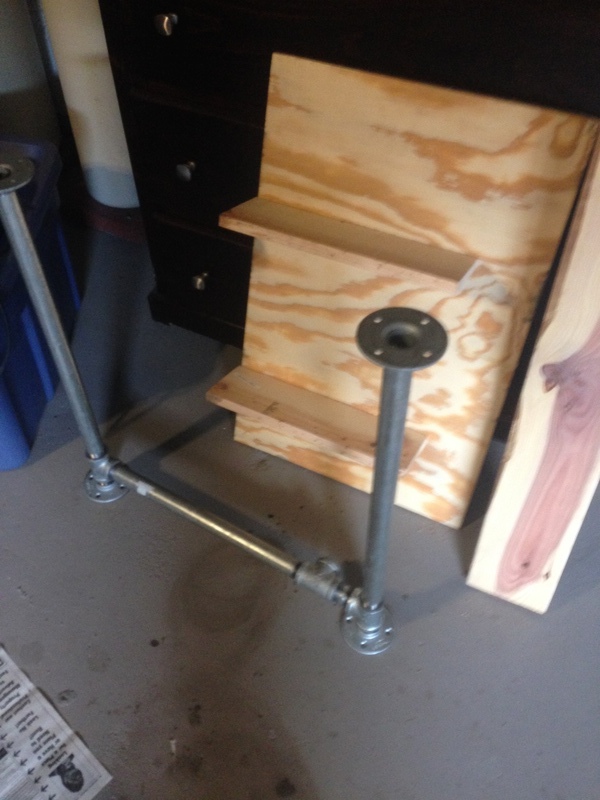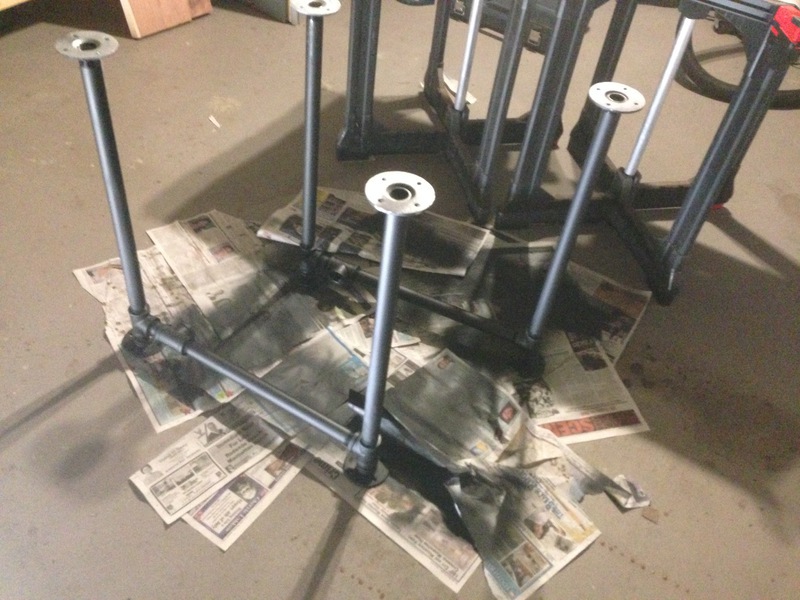 Here's the legs, ready to go, also moved to the kitchen. I've used one of my girlfriend's magazines to not mess up the floor.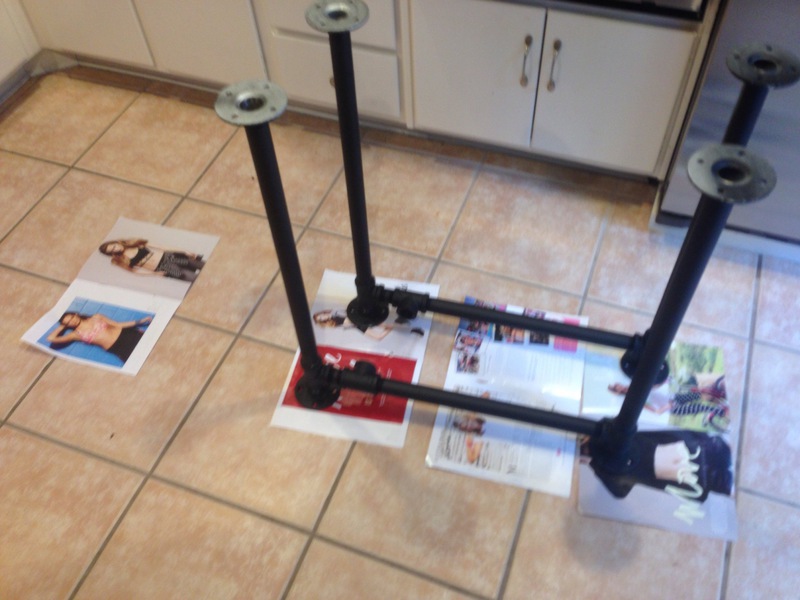 I'm not sure if this is necessary, but I didn't feel comfortable just resting the desk on top of 2 posts. I would prefer to distributed the weight of the desk over a larger surface. I didn't want to drill it right into the desk though, since I was told the wood can grow and shink over time. I went with some MDF between the posts.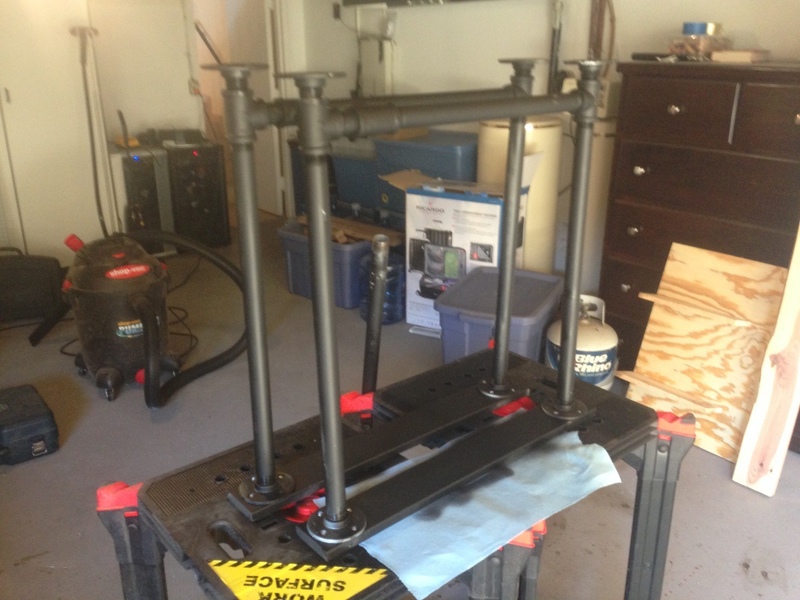 The pipe down the middle serves a purpose of stability but also is a nice foot rest.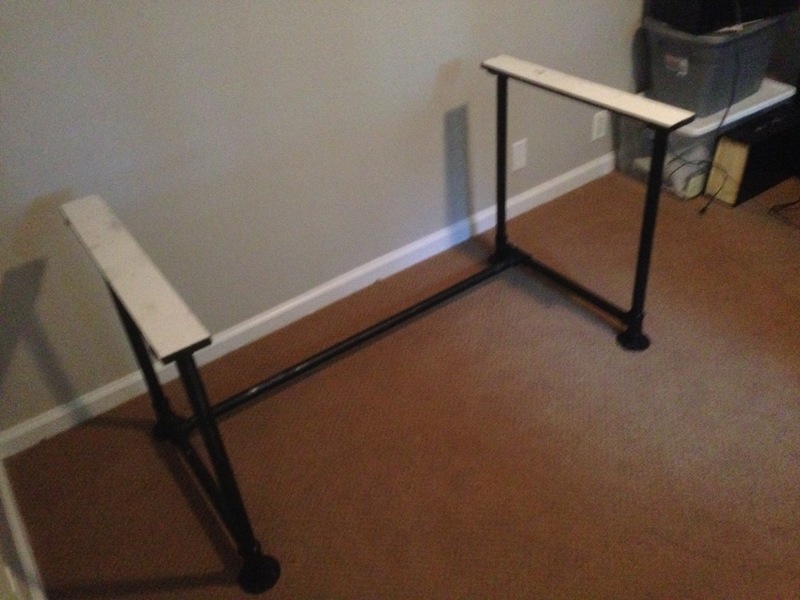 Here's the desk, assembled. It's 5 feet across, 30 inches deep.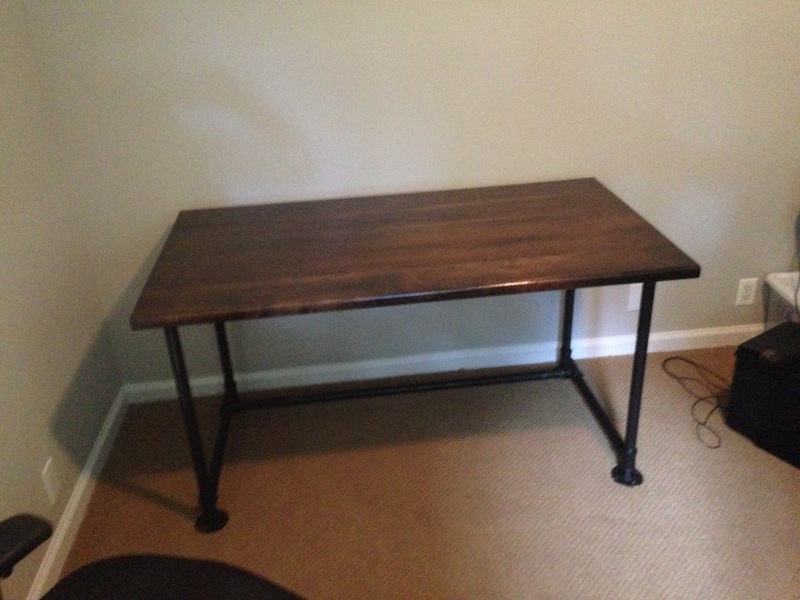 And with my stuff on it.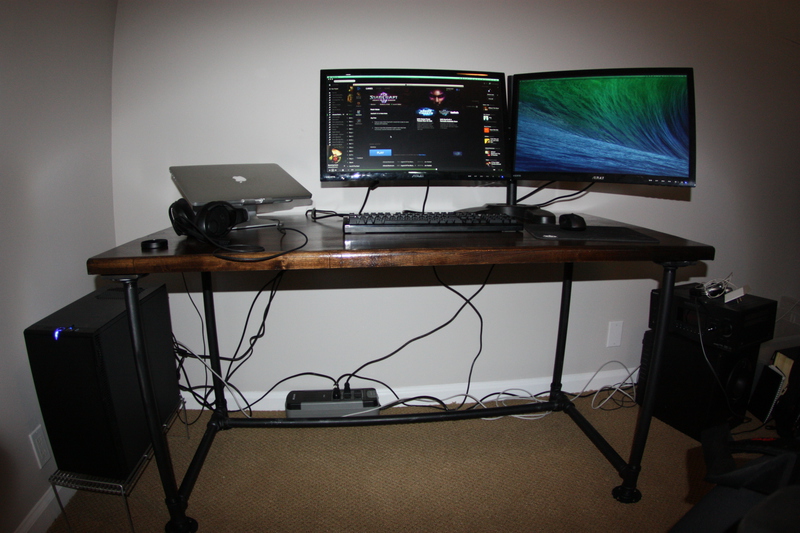 It took me a few weeks to get everything figured out and put together. I've been in and out of town on weekends so I definitely spent a lot of time working at my dining table, which was unpleasant for a variety of reasons. However, it ended up being completely worth it. I learned a ton and will be applying what I learned to my next projects.
If you found this post helpful, please consider sharing to your network. I'm also available to help you be successful with your distributed systems! Please
reach out
if you're interested in working with me, and I'll be happy to schedule a free one-hour consultation.